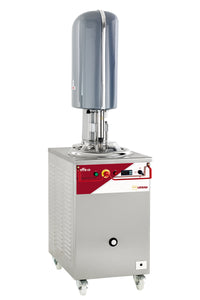 The very user‐friendly EFFE batch freezer allows its operator to make ice cream and gelato in a unique way, made possible by this machine only. In fact, the Effe gives the opportunity to create flavors that are difficult to produce with other equipment, allowing The artisan gelato maker to experiment as much as little as he or she likes. The EFFE makes the production area visible by consumers, and after seeing the fresh product being made, people will want to wait so they can taste the gelato straight out of the machine.
Effe 6 Batch Freezer: Advantages
The EFFE can be set-up in limited space, with a limited investment. It can also be seen as an add-on to an existing small pastry or bakery business.
Paddle Extraction – A special paddle "spatula", with a delicate and discontinuous movement, removes the gelato.
Unique Flavors – Add ingredients to your gelato and ice cream such as almonds, nuggets, and chocolate as the ice cream is being produced, something impossible to do with a horizontal batch freezer.
Traditional Granita – For those who love combination of perfection and freshness, nothing is better than a Sicilian-style slush (so-called "GRANITA"). The Effe makes this simple by combining a natural process and modern technology.
Visual Production – The Effe offers many features to engage your customers by making the work area visible to the consumers.
Glycol Based Freezing – The Effe's vat turns and the mix moves towards its cold inner side, where the water changes into ice crystals, giving a deep structure to the liquid mix.
Professional

 

- UL / NSF Certified