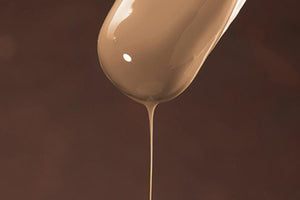 ADVANTAGES:
Top quality coating, containing not hydrogenated vegetable fats and featuring an excellent milk chocolate flavor.
It can be used not only for classic gelato 'variegating' to create interesting specialties such as "Duetto" (together with Lattemou and MilleStelle Wafer), but also for many other recipes for gelato and pastry.
It is particularly interesting to decorate tubs and semifreddi, to prepare coated gelato, artisanal gelato biscuits, cold mignons filled with semifreddo or gelato, coloured gelato mini-cones, by using also other Stracciatelle and Coatings of the range.
USES:
as for all other coatings, it has to be used in a fluid state, after having melted it in a warm water bath (at a temperature not exceeding 35-40°C) checking the mix until it becomes homogeneous.
For Nutritional Facts: